Raincoat and jacket fabrics for outerwear
Windbreakers, trench coats, insulated jackets and coats are usually produced from raincoat fabric, smooth or slightly textured. These fabrics are made from synthetic or cotton yarns or a blend of both. They absorb dyes well and do not change color during the wearing process. These fabrics are designed for everyday functional outerwear and have strengthened protective properties, particularly water and wind resistance.
In the process of manufacturing outerwear fabrics, several types of processing and surface treatments are used to enhance performance and improve the properties of the material. It significantly increases water and tear resistance (water-resistant and water-repellent) and UV resistance. Main surface treatments and coatings used in outerwear fabric manufacturing:
- WR – waterproof spray. Waterproof spray treatment prevents water from soaking through fabric, it rolls down the surface.
- PU – polyurethane coating. Applied to the inner side for waterproofing. Coating thickness may differ. Waterproofing is measured in millimeters water column.
- CIRE – downproof treatment. Applied to the fabric at high temperature. Does not allow down to penetrate the surface of the fabric.
- Lamination – membrane treatment. A water-repellent membrane is applied to the fabric or steeped. It must prevent water from penetrating but allow the steam out.
Clothing fabric
Various types of natural and synthetic fabrics are used in the process of manufacturing blouses, dresses, trousers, cardigans, shirts, jackets, including:
- cotton fabrics
- viscose fabrics
- fabrics containing bamboo fiber.
Cotton fabric:
This is the most popular type of natural material for sewing women's, men's, and children's clothing. Cotton fabrics are exceptionally strong. Combining natural cotton fiber with synthetic or artificial fibers creates appealing material, broadens the palette and techniques of applying the pattern. Cotton clothing is breathable and preserves body heat.
Viscose fabric:
Viscose is a material made from natural materials by artificial means. Fabric made from viscose is very pleasant and soft to the touch, has good water-absorbing qualities and does not create static electricity. Viscose can easily be dyed different bright colors which is an advantage in the production of women's and children's clothing.
Bamboo fabrics:
Bamboo fabric is a natural fabric made from bamboo fiber. Bamboo fabric is very light but also very strong, absorbs moisture and is soft and nice to the touch. People allergic to other fabrics have no complaints about bamboo fabric. In addition, bamboo fabric is excellent for preserving heat in winter and gives a sensation of cooling in the summer. Bamboo fiber has a pleasant noble shine and gives a brightness to the colors it was dyed.
Down and feather insulation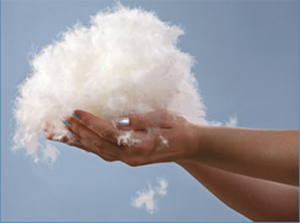 Down and feather insulation is the standard of quality when it comes to warmth and lightness. It is highly hygroscopic to ensure excellent breathability, perfectly recovers its shape after compression, and possesses a high degree of elasticity. If used properly, items of this type can last up to 15 years. Down fills up the space of its container evenly and does not lump together.

The main characteristic we can use to evaluate the feather mix is its elasticity, which is represented as its Fill Power parameter, or FP (the factor determining the ability of materials to restore their volume after compression). The higher the value, the better and higher quality the material is. For casual garments, this value is 550–600 units.

The second characteristic of a finished feather mix is the presence of actual feathers. The standard ratio for down products is 80 % down and 20 % feather. Products with this proportion of down to feather provide a high level of thermal insulation. A high percentage of down enables the filling to hold a lot of air, which creates an air cushion that keeps in warmth. When the quantity of down is increased, garments preserve all of their heat-insulating properties, but in the process also acquire the additional benefit of a lower overall weight.

The third characteristic is the quality of the down.
It is believed that the best down is down collected from live poultry (pulled out) as a result of natural molting twice a year, in spring and autumn, where there is practically no tougher exterior feathers, which greatly improves elasticity. This method of collecting down involves pulling it from live poultry as they molt, and new feathers and down naturally grow back to replace the old within six months. Down and feather pulling is performed manually.
 Further treatment of the raw material depends on the use in the finished product. Down is only taken from waterfowl, as the downy plumage of these animals has a water-repellent fatty layer. To become finished filler material, the raw down and feather material undergoes a unique washing, refining and drying process. Washing and drying is fully automated: the material is loaded up for the initial washing process and is then washed with detergents to restore the natural qualities of down. Afterwards, it is subject to antibacterial treatment, followed by several rinsing cycles. The cleaning process is completed by then refining the raw material. Next, the raw material is sent to drying chambers where it undergoes additional disinfection by thermal treatment.