Charity | FiNN FLARE
Sponsorship and charity are one of the most important aspects of FiNN FLARE's activity. The Moscow Office of FiNN FLARE takes social responsibility and considers it its duty to help socially disadvantaged groups of people. All charitable programs and campaigns are targeted and include not only long-term projects but also one-time assistance. Sponsor projects of FiNN FLARE are part of the corporate strategy of the company and are aimed at supporting publicly important social issues.
Supporting track and field athletes of the Russian Paralympic team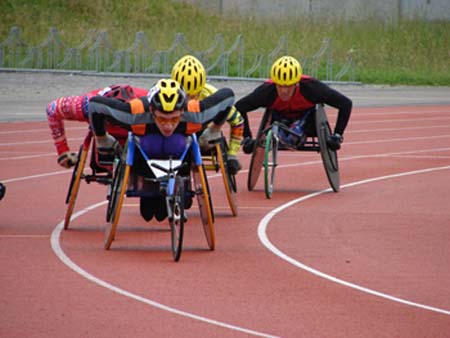 FiNN FLARE has been a proud sponsor of track and field teams of the Russian Paralympic team for almost 10 years by supplying them. This team consists of both young and experienced athletes with disabilities, who due to their boundless willpower, character and hard work were able to rise above the circumstances and make outstanding athletic achievements. At the 2006 Paralympiс Games in Turin, the Russian national team for the first time in its history became the leader in the overall team standing. In Beijing in 2008, the team achieved equally remarkable results: Paralympic track and field athletes won 16 medals, becoming one of the top ten teams of the world.
Supporting Spartakiad Games for disabled children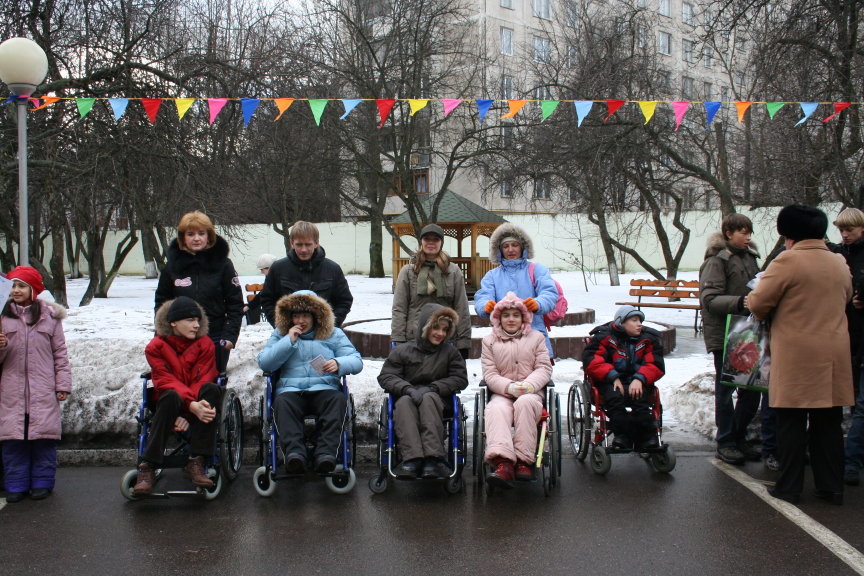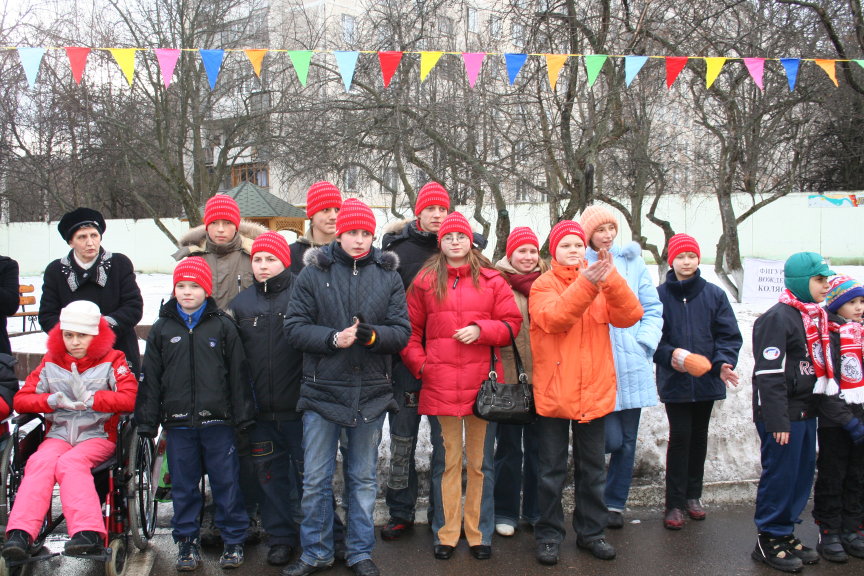 FiNN FLARE provides support for Spartakiad Games for children with disabilities, a sports festival which is hosted twice a year by the Tsaritsynsk social service center. Young athletes compete for the title of the fastest, nimblest and strongest in such interesting disciplines as dumbbell lifting, tug-of-war, Ringo of Hope quiz, wheelchair race, table tennis, chess and droughts, skiing, luge, ice hockey. According to the Chairman of the Moscow Committee for Physical Culture and Sport Anton Sikharulidze, this kind of competitions not only create an atmosphere of fun and joy, but also strengthen willpower and commitment to winning
Providing aid to the Yuzhnoye Butovo children's home
FiNN FLARE considers it its duty to participate in creating equal conditions for handicapped children and orphans. The FiNN FLARE staff have provided targeted aid to the Yuzhnoye Butovo care home for mentally challenged children for several years by supplying toys, lego kits, cartoon DVDs, snow saucers, and Christmas ornaments as New Year's gifts. We hope that these small presents will bring more warmth and joy to the lives of the children.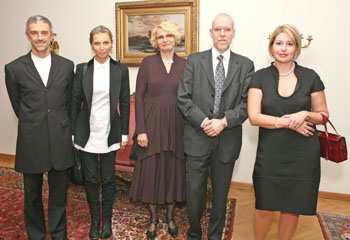 Sponsorship of the New Drama Festival
In September 2008, FiNN FLARE sponsored the Finnish Theater Day at the New Drama Festival. This event opened with reading of Finnish plays For Sheer Love of Me by Anna Krogerus (director Joel Lehtonen) and Fundamentalisti by Juha Jokela (director Timur Salikhov), a discussion of Finnish social drama and a performance of Panic. Men on a Verge of a Breakdown, directed by Alexander Bargman and based on the play of famous Finnish playwright Mika Myllyaho. This play, which is a fascinating story of two men in a midlife crisis, had been successfully performed for more than one season in the White Theater of the Dostoyevsky Museum in St. Petersburg, but it was its first showing in Moscow. The Finnish Day triumphed with a reception in the Finnish Embassy in Moscow, hosted by the Ambassador Extraordinary and Plenipotentiary of Finland in the Russian Federation Matti Anttonen and his wife Virve Lehtikari-Anttonen.
.
FiNN FLARE creates a Finnish Christmas Show for children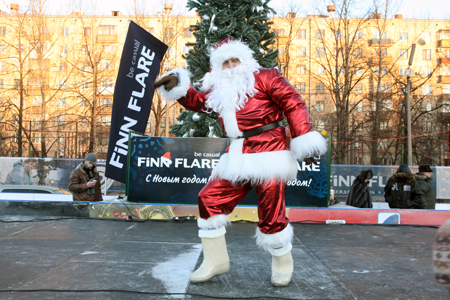 For the school holidays and New Year celebrations, FiNN FLARE prepared a real ice festival for all children of the capital — a Finnish Christmas Show, which took place on January 4, 2008 at the Meteor skating rink near the Park Pobedy Metro station. Admission for children was free. A special program of competitions and quizzes was prepared for the guests, and at the skating rink such famous Finnish fairy-tale characters as Moomins from the Moominhouse, Sampo from Lapland, Mountain King, Hiisi, boy Knut the Musician entertained and conducted master classes for little figure skaters. The event ended with a performance by Joulupukki and the Fire Magic Show.
FiNN FLARE charity auction to support for the Kenes child center (Almaty)
In July 2008, as part of the golf tournament for the Cup of Inter RAO UES, FiNN FLARE held a charity auction and sent all the proceeds to the Kenes rehabilitation center for disabled children. Models of clothes and accessories from the FiNN FLARE Spring–Summer 2009 collection served as lots. A total of 15 sets were sold. The Kenes Center in Kazakhstan has been engaged in rehabilitation and education of children with disabilities and developmental disorders for more than ten years, using the latest programs and experience of the world's leading centers. It works with children with cerebral palsy, epilepsy, chromosomal disorders, autism, developmental delay and mental illnesses. All the money collected at the auction was used to implement a hippotherapy program.
"Christmas Angels" bringing hope
A special "Christmas Angels" project that was held on December 19, 2007 in the Novinsky Passage made it possible to help children with cancer and blood disorders who urgently required surgery. Christmas Angels presented at the charity event in the form of original dolls made by Russian designers in collaboration with movie, television, show business and political celebrities were bought by the guests to contribute to the "Give Life" children's fund of Dina Korzun and Chulpan Khamatova. Ksenia Ryasova, President of Finn Flare, came to support the idea of the project and made her own contribution, buying two charming dolls: an angel with black wings and an angel with autumn-like wings.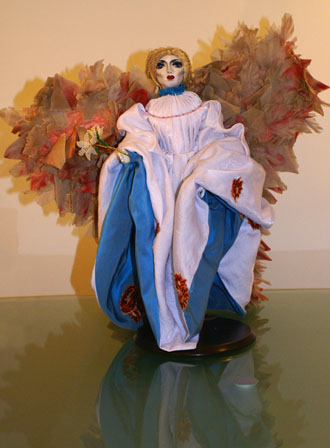 FiNN FLARE supports the Russian Paralympic team
FiNN FLARE has been cooperating with the Russian Paralympic team for many years. Another Summer season has arrived, and the Paralympic team, which performs successfully at Russian and international competitions, put on sports clothes from the new summer collection of FiNN FLARE.
The company is also planning provide the team of Paralympic skiers with sports suits.